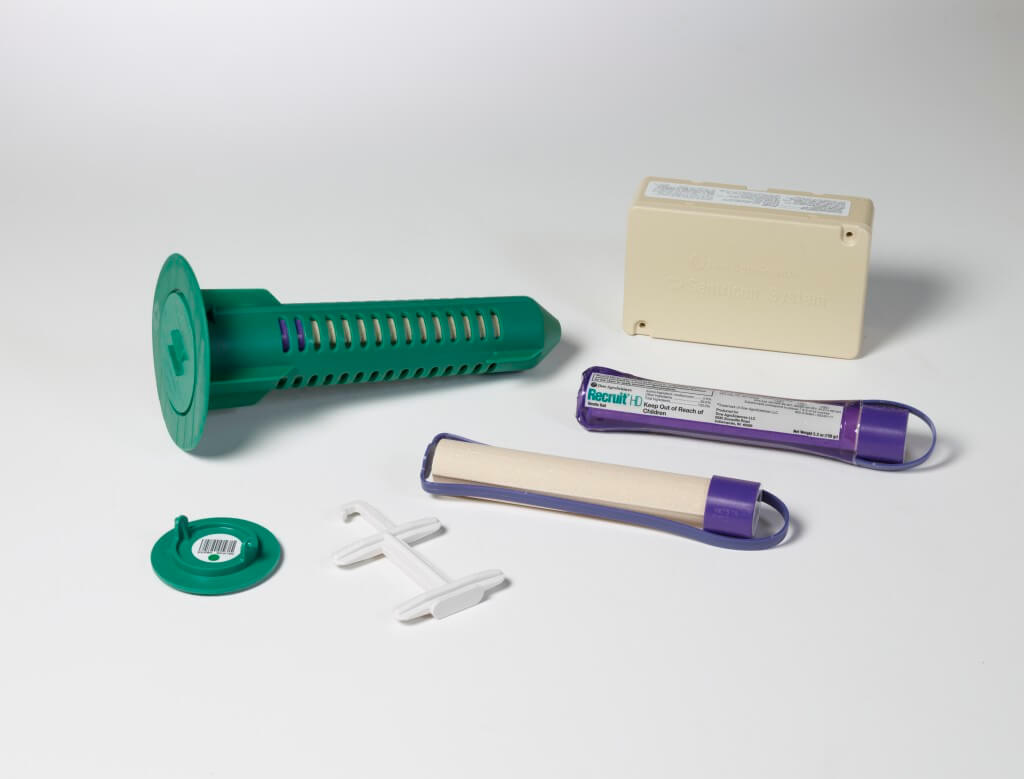 Spring is officially upon us! The flowers blooming. Temperatures rising. Termites swarming. Just as we've been social distancing the last few months, some of our more overly social friends, termites are out and active again. Luckily for you, Buckaroo Pest Protection is here and ready to service the local Plano and Dallas area with the best termite protection treatment out there: Sentricon®.
Over the course of the last few months we've been the bug in your ears informing you of the all the pests local to the Dallas area that may endanger your home and risk the health of your family. What we haven't discussed yet is how we do it. Since the hottest pest of the season is termites, we figured we could start there.
How do we treat for termites?
Most companies tackle termite prevention and management with a liquid barrier solution that can easily be sprayed around your home and indoors. Though this method is effective, it's not a long-term solution to get rid of an active termite infestation. Termites burrow deep within the earth or moist environments such as decaying wood or damp earth.
Using this liquid solution to treat and rid your home of termites may kill some on the surface but won't effectively reach deep within the borrows to destroy the rest of the colony. We prefer to use a product called Sentricon® to not only take care of an active infestation, but prevent another from happening in the future. This product is effective and a great investment toward the longevity of your home.
How does Sentricon® Work?
Sentricon® utilizes bait around the perimeter of your home and indoors to lure these little homewreckers into the most deceptive of traps. This system uses the termite's hunger against them by encouraging them to munch on bait they're attracted to. Foragers will bring this newfound goodness back to their colony and spread the wealth. Sharing is caring right? We think so too.
What they don't know, is that it's lethal. As long as Sentricon® is in place, your home will be safe and free of termites! Sentricon® is the ultimate defense.
Termites are the sneakiest of pests because they know how to hide and protect the longevity of their colony. If the queen lives, the colony will be able to reproduce and carry on. We don't want you or your family to live in fear that your home is being destroyed from the inside out.
A common misconception of pest infestations is if you can't see them anymore, they must be gone. Since you don't typically start to see termites until an infestation has gotten out of control, that logic doesn't necessarily apply here. By the time you start to see termites massing at your windows and begging to be let in, it's too late. They're here and now, they plan to stay. With Buckaroo Pest Protection in your corner, we'll make sure that doesn't happen.
Ok, I'm interested! How do I sign up?
Great! As a local and family friendly business based in the Dallas area, we aim to help you protect your home, family and memories in any way that we can. Our technicians are professional, well informed, and dedicated to thoroughness. We want to make sure that you and your family have all the information you need to make an informed decision about which preventative measure works best for your home. Let us do the heavy lifting for you!
If you're interested in getting more information about Sentricon® or other forms of termite prevention, pick up the phone and give us a ring! As always, the key to effective pest protection is early intervention. Don't wait until it's too late!
Click here to sign up for a free whole home inspection or give us a call at (469) 598-0560 for more information. Check out our latest promos! For current covid related updates, click here to view a message from our company.
When pesky pests invade your commercial space, things can go from bad to worse quickly. Not only can pests damage or destroy the property, but they can also pose a health hazard to you, your staff, and your customers. Not to mention that a customer...
read more
We are Available Monday – Friday; 8am – 5pm
Call Us Anytime: (469)-742-2345